1. Hotel Yak & Yeti, Durbar marg :
Hotel Yak & Yeti is housed in a heritage palace in central Kathmandu, surrounded by antique fountains and landscaped gardens. It also has a casino, an outdoor pool, and 2 tennis courts.The rooms have cozy atmosphere and are meticulously furnished with deluxe room sizes ranging from 292 sq ft to plush presidential suite sized at 759 sq ft. This hotel offers options for interconnected rooms for family and groups.
Located in Durbar Marg, Hotel Yak & Yeti is a 10-minute walk to the Thamel and a 15-minute drive from the city centre and Tribhuvan International Airport.Now an extension of 150 deluxe rooms and suites have been built (designed to harmonize with the special features of the Lal Durbar) to supplement the existing accommodation, bringing the total number of rooms available in the hotel to 270 rooms.
2. Hyatt Regency, Boudha :
Hyatt Regency Kathmandu is a 5 star luxury hotel and resort in Kathmandu, Nepal offering FREE WI-FI internet access to all guests.The hotel is set on 37 acres of landscaped grounds, and created in the traditional Newari style of Nepalese architecture.This beautiful hotel and resort is located in the metropolitan city of Kathmandu at Taragaon, Boudha, and on the road to the Boudhanath Stupa: the most holy of all Tibetan Buddhist shrines outside of Tibet, and a UNESCO World Heritage Site which is walking distance from the hotel – about five minutes away.
The hotel is just 4 km (2.4 miles) from the Tribhuvan International Airport and 6 km (3.7 miles) from the city centre of Kathmandu.The hotel's 280 rooms and suites enjoy views of either the Boudhanath Stupa or the lush gardens and the surrounding mountain ranges. All rooms are well-equipped and spacious with a private bathroom, a walk-in shower, an in-room safe and a mini bar.
3. Soaltee Crowne Plaza, Tahachal :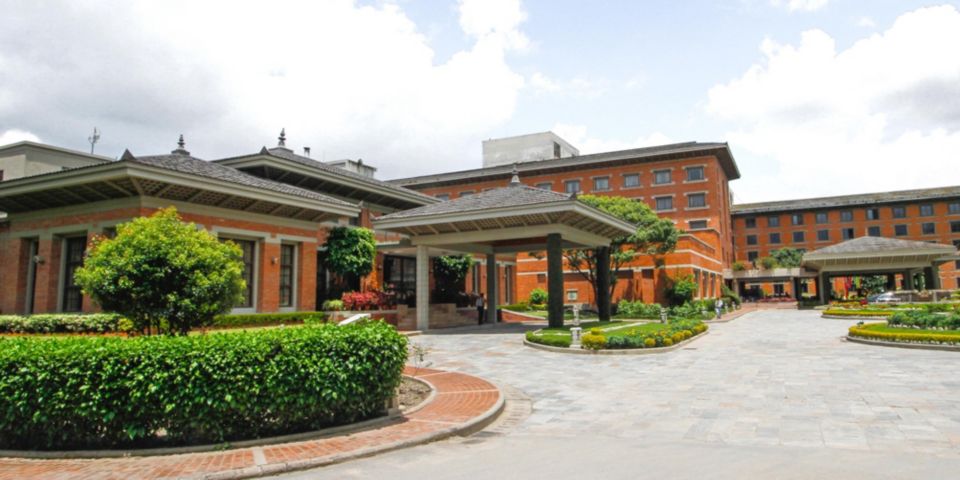 The warm, contemporary rooms, some with wooden floors, feature free Wi-Fi, flat-screen TVs, and tea and coffee making facilities. Upgraded rooms come with access to a club lounge that offers free breakfast and drinks. Room service is available.Amenities include an outdoor pool, a fitness room, sports courts, and a spa with gender-segregated saunas and steam rooms. There are also 4 restaurants, one of which serves Italian cuisine, and a lobby bar.This modern, upscale hotel is 2 km from both the hilltop Swayambhunath temple and Kathmandu Durbar Square.it is located in Tahachal Marg, Kathmandu.
4. Radisson Hotel, Lazimpat :
The Radisson Hotel Kathmandu offers a delightful introduction to Nepali culture with a prime location near city businesses as well as theme nights featuring traditional music and classical dancing in the hotel's garden. During your stay, rejuvenate with our hotel's impressive relaxation facilities, such as Tranquility Spa and the health club. it's about 20-minute ride from Tribhuvan International Airport to hotel. Soak up Nepal's bright sunshine by the rooftop pool, or indulge in a time of rejuvenation at Tranquility Spa.health club features treadmills for a cardio workout as well as a sauna and a steam room for winding down. hotel contain more then 250 luxurious  rooms.
5. The Malla Hotel, Thamel :
The malla hotel kathmandu nepal is a luxury five star hotel in the heart of kathmandu city. the malla hotel kathmandu is set in well maintaind garden, in the heart of the city, between the royal palace and thamel. the malla hotel provide good amenities and sirvice including a relaxing pool and well equipped business center .rooms and pleasantly furnished with comfortable furniture providing great accommodation all having gardened. the mall hotel is ideal for business or leisure travelers who want a cental city, location base.
superbly located between the royal palace and kathmandu's fashionable tourist district,thamel, in the heart of city. the malla hotel is a only a 20 minutes drive from international airport. malla hotel contain more then 125 luxurious rooms.
6. Hotel de l' Annapurna, Durbar marg :
Hotel Annapurna has an illustrious history of decades of hospitslity excellence since 1965. named after the goddess of plenty,this 5.5 acres of luxury located in heart of kathmandu offers both comfort and convenience making it the ultimate address for both leisure and business travelers. the hotel promises the finest accommodation and sirvices to complement its varied facilities: fine dining outlets, extensive banquet and conferencing facilities, business center , one of the largest hotel swimming pool, well-equipped gym, splendidly landscaped garden ,wi-fi facilities and the most prestigious shopping arcade.
7. The Everest Hotel, New Baneshwor :

The Everest Hotel is named after the world's highest peak Mt. Everest or Sagarmatha in the Nepali language. The given name is also means the 'roof of the world' and the history that is embedded in Nepal's rich cultural and religious heritage. The Everest Hotel is a fantastic combination of international standards with Nepali hospitality, situated in the new city center of the capital, Kathmandu just 3 kilometers away from the Tribhuwan Intl. Airport. The Everest Hotel is ever ready to cater to the needs of its diverse categories of guests, dismissing all notions that business and pleasure cannot be mixed. The convenient location surrounded with shopping centers, touristic hotspots, budding restaurants & pubs, an international convention center, hospitals, banks as well as the local police station make the venue most desired place in town.
8. Gokarna Forest Resort :
Gokarna Forest Resort is situated inside the Gokarna Protected Forest which in the past used to be the private royal hunting ground of the kings of Nepal. The quiet, natural and peaceful environment of the resort makes it the perfect getaway for relaxation and indulgence with the most exotic forest views from there  cottage rooms.
Enjoy a game of golf or horse rides, spa treatments, forest walks, jungle paint ball games, bird watching, cycling, driving range practice or a cart tour. There is so much to enjoy here, or simply enjoy doing nothing at all while relaxing in the natural harmony of the place.there  100 roomed resort is a perfect venue for conferences and we offer team building packages and a wonderful wedding setup.Traditionally the private royal hunting grounds of the Kings of Nepal, this temperate forest of medieval Kathmandu valley is a conserved area, never denuded in over 500 years of preservation.
9. The Fulbari Resort & Spa, Pokhara :
One of the Great Hotels of the World, The Fulbari Resort & Spa is Nepal's only deluxe 5 Star Resort. Brainchild of promoter, Mr. Piyush Bahadur Amatya, The Fulbari was envisioned to be Nepal's most luxurious and exclusive property, offering amenities that a modern world-weary traveler can desire.
Re-imagining architectural wonders of Nepal's golden age, The Fulbari Resort & spa stands as a testament of the beauty espoused by ancient Newari kings of Kathmandu Valley. Complementing the traditional Newari architecture, The Fulbari also offers unparallel panoramas of Fishtail and Annapurna mountain ranges to the north, and the breathtaking Seti River Gorges to the South.
Also available are seven different wining and dining outlets as well as an executive 9-hole golf course, a Casino, and a full fledged Spa. Additional recreation activities available onsite include a horizon-less swimming pool, children's playground, a boating pond, tennis, snooker, and a pheasant sanctuary.
10. Hotel Shanker, Lazimpat :
Hotel Shanker, Kathmandu is a heritage hotel, housed in a 19th-century palace within walking distance to Thamel and Durbar Marg, Kathmandu's tourist hubs. It was the royal residence of the rulers of Nepal from 1894 until 1964, when it was converted into a luxury hotel. The facade was kept intact but the interiors were redesigned to give travellers the kind of comfort they'd expect of a world class hotel. The hotel is characterised by exquisite and authentic objects d'art. For example, the carved windows displayed in the lobby bar are over 200 years old.