1. One Hyde Park, London :
One Hyde Park is a major residential and retail complex located in Knightsbridge, London. The development includes three retail units (Rolex, McLaren Automotive and Abu Dhabi Islamic Bank) totalling 385,000 sq ft (35,800 m2) and 86 residential properties marketed with prices starting at around £20 million.
The building is owned by Project Grande (Guernsey) Limited, a joint venture between the Christian Candy-owned CPC Group and Sheikh Hamad bin Jassim bin Jaber Al Thani, former Prime Minister and Minister of Foreign Affairs of Qatar. Graham Stirk led the trem at Rogers Stirk Harbour + Partners who designed the building. built by Laing Rourke It was financed via a £1.15 billion development loan from Euro-hypo AG. Candy & Candy were the development managers and interior designers for the scheme. Average price per square foot: $9,906
Penthouse : $227 million
2. 432 Park Avenue, New York :
432 Park Avenue is a super tall residential skyscraper in Manhattan, New York City. Originally proposed to be 1,300 feet (396 meters) in 2011, the structure topped out at 1,396 ft (426 m). It was developed by CIM Group and features 104 condominium apartments. Construction began in 2012 and was completed on December 23, 2015. The building has been much maligned by many city denizens who find it an eyesore and believe it represents New York increasing cost of living and ostentatious wealth.
The building required the demolition of the 495-room Drake Hotel. Built in 1926, it was purchased for $440 million in 2006 by developer Harry Marlowe and razed the next year. Its footprint became one of New York most valuable development sites due to its location, between East 56th and 57th Streets on the west side of Park Avenue. As completed, 432 Park Avenue is the third tallest building in the United States, and the tallest residential building in the world. It is the second tallest building in New York City, behind One World Trade Center, and ahead of the Empire State Building. It is also the tallest building in the world known only by its street address, replacing Chicago 311 South Wacker Drive.
Average price per square foot : $6,742
Penthouse : $95 million
3. One57, New York :
One57 formerly known as Carnegie 57 is a 75-story (marketed as 90-story) super tall skyscraper at 157 West 57th Street in the Midtown neighborhood of Manhattan, New York City. Upon completion in 2014, it stood at 1,005 feet (306 m) tall, making it the tallest residential building in the city for a few months until 432 Park Avenue was constructed. The building has 92 condominium units on top of a new Park Hyatt Hotel with 210 rooms, which is set to become the flagship Hyatt property.
The contractor is Lend Lease Project Management Construction, and the developer is Extell Development Company. As of January 2015, it is home to the most expensive residence eversold in New York City.
Average price per square foot: $6,000
Penthouse: $90 million (sold in 2012)
4. South Bank Tower, London :
South Bank Tower is a high-rise building in Stamford Street, Southwark, London. It was originally a thirty storey structure 111 metres (364 ft) high and was completed in 1972, designed by the architect Richard Seifert and built by John Laing Construction Limited. In recent years, the tower has undergone extensive redevelopment and a height increase. The tower is similar in design to Tower 42, which was designed by the same architect.
Average price per square foot: $3,300
Penthouse: $90 million.
5. Tour Odéon, Monaco :
The Odeon Tower (French: Tour Odéon) is a double-skyscraper currently being built in the Principality of Monaco. It is the first high-rise in the city-state to be built since the 1980s (high constructions had been abandoned due to architectural concerns, sea polders had been preferred). At 170 meters high, Tour Odeon will be the second tallest building on Europe Mediterranean coast, after Gran Hotel Bali (186m) in Benidorm, Spain. Had Tour Odeon been built in neighboring France, it would be among that country 10 highest buildings. It will be the 199th tallest building in the world – by floor count – upon its finish date.
This project from Claudio Marzocco Group is an important renewal of economic development for the second-smallest country in the world. Its construction was launched in the middle of the economic crisis, in 2009.
Average price per square foot: $8,900
Top apartment: $65.7 million
6.  Opus Hong Kong, Hong Kong :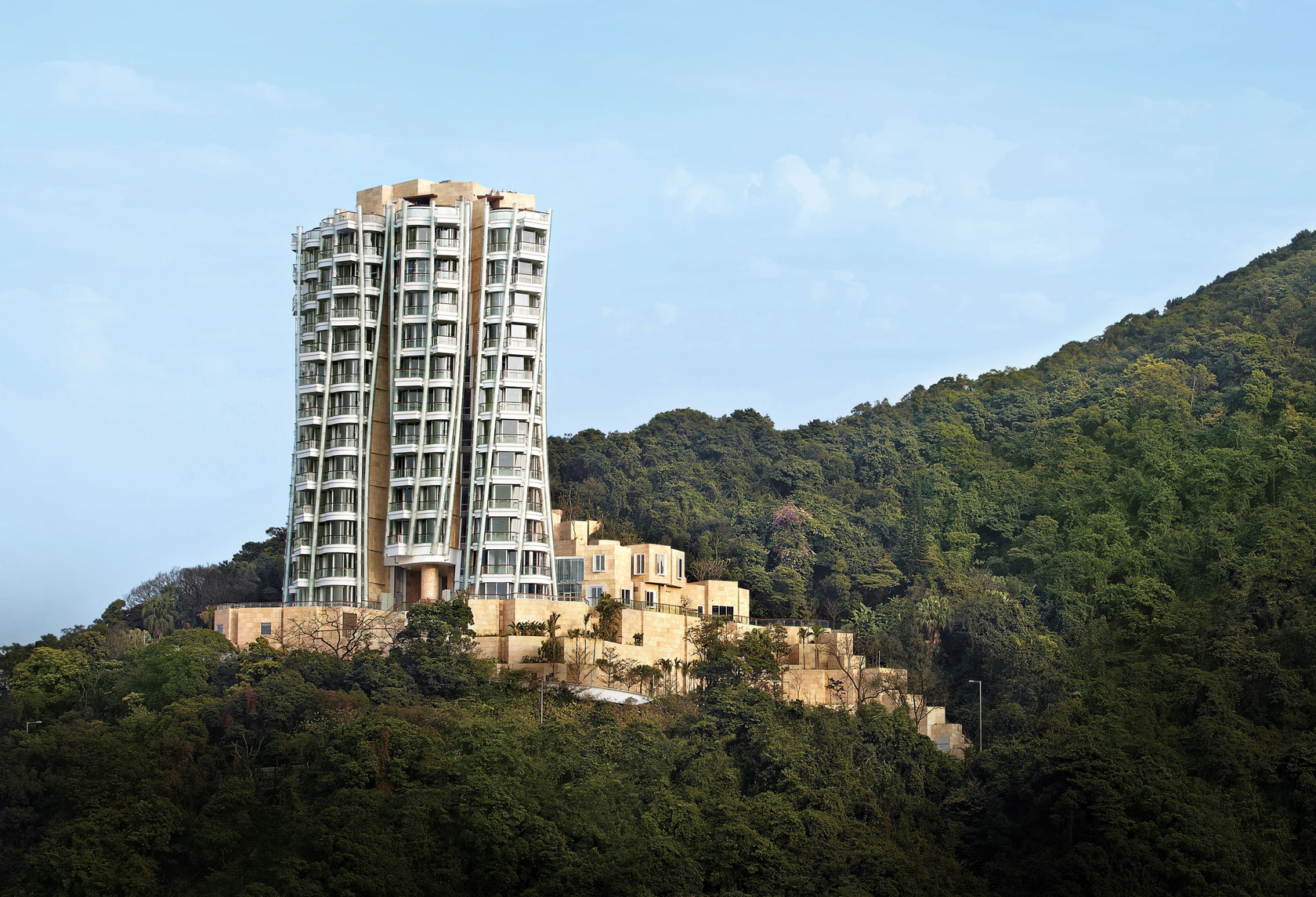 Opus Hong Kong is a 12-storey, 42.62 m (139.8 ft) residential high-rise completed in 2012 at 53 Stubbs Road on Victoria Peak in Hong Kong. The project was designed by Frank Gerry in collaboration with Ronald Lu and Partners, and developed by Swire Properties. It was Gehry first Asian residential project.
The building consists of 12 residential units which range from 560 to 640 m2 (6,000 to 6,900 sq ft), including two duplexes with pools. Additional features on the 3,020 m2 (32,500 sq ft) site include underground parking, swimming pools, gyms, rainwater recycling for irrigation, and electric car charge systems. A 580 m2 (6,200 sq ft) apartment, taking up the entire eighth floor, became the most expensive apartment in Hong Kong when it was sold for HK$470 million in August 2012.
The British Consul-General to Hong Kong has resided here since 2013.
Average price per square foot: $10,740
Top published price: $58.6 million
7. 56 Leonard, New York :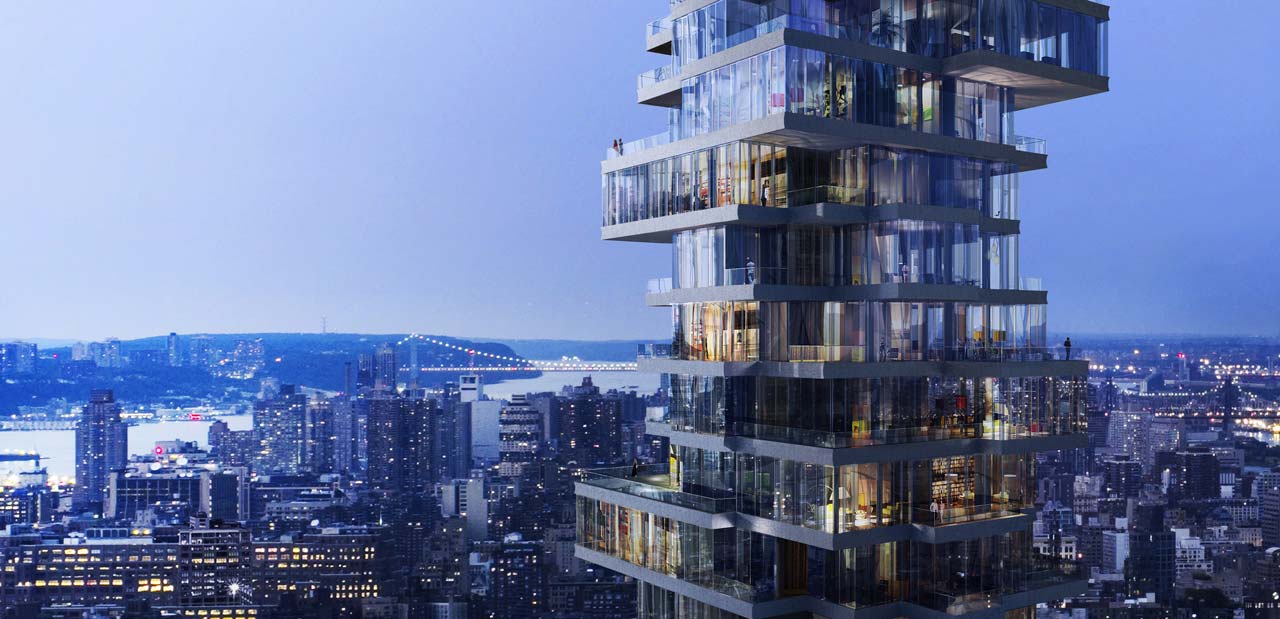 56 Leonard Street is an 821 feet (250 m) tall, 57-story skyscraper currently under construction on Leonard Street in Tribeca, New York City, United States. The Pritzker Prize-winning Swiss architecture firm Herzog de Meuron describes the building as houses stacked in the sky When completed, it will be the tallest structure in Tribeca.
The building has 145 condominium residences priced between US $3.5 million and US $50 million. Residences will range in size from 1,418 to 6,400 square feet (131.7 to 594.6 m2) and will include 2 to 5 bedrooms all with private outdoor space.
As of May 2013, 70% of the building had sold. According to building developer Izak Senbahar, the building was 92% sold in seven months. In June 2013, a penthouse at 56 Leonard went into contract for US $47 million, making it the most expensive residential property ever sold below Midtown Manhattan.
The building is expected to be completed in 2016. Due to its cantilevered balconies it has been nicknamed as the Jenga building by the media.
Average price per square foot: $6,000
Penthouse: $47 million
8. Clermont Residence, Singapore :
Clermont Residence is perched atop the 951-foot- high Tanjong Pagar Centre, Singapore's tallest building. Skid more, Wings and Merrill designed the building, which is due for completion in 2016. There will be 180 apartments, including the 14,500-square- foot penthouse with its own private elevator. Residents of the Peck Seah Street building will be able to step out into Singapore's prestigious Central Business District. The project is being run by Guocoland, the developer owned by Malaysian billionaire Quek Leng Chan.
Average price per square foot: $2,360
Penthouse: $47 million
9. One Thousand Museum Condos, Miami :
One Thousand Museum is a high-rise condominium under construction in Miami, Florida, U.S.A. The deep foundation required drilling to record depths of over 170 feet (52 m). The 62-story building is expected to rise about 700 feet (210 m) when completed in 2018, making it one of the tallest buildings in Miami. The depths of two auger-cast piles broke a record for Miami-Dade County that had recently been set by the Porsche Design Tower in Sunny Isles Beach. The building, which is located at 1000 Biscayne Boulevard, across from Museum Park, was designed by prize-winning architect Zaha Hadid. The exotic design of the building features a curving exoskeleton partially obscuring the balconies that also serves structural purposes, allowing the interior space to have fewer columns. The effect of the design and height on wind loading is part of the reason the foundation had to be exceptionally deep. The building is considered ultra-luxury, containing about 80 large units priced at about double the cost per square foot of nearby condominium towers, with amenities possibly including a rooftop helipad.
Average price per square foot: $1,100
Penthouse: $45 million
10. One Madison, New York :
One Madison is a luxury residential condominium tower located on 23rd Street between Broadway and Park Avenue South, at the foot of Madison Avenue, across from Madison Square Park in the Flatiron District of Manhattan, New York City. The building address is 23 East 22nd Street, where the main lobby is located.
Located on East 23rd Street in Manhattan, this slim 60-story glass tower already has some celebrity residents, including Tom Brady and Giselle Bündchen. Soon, they'll be bumping in to Rupert Murdoch, who spent $57 million buying the top four floors of the building after he combined the triplex penthouse and the apartment below. One Madison has 53 units with amenities such as an indoor pool with marble walls and butler service.
Average price per square foot: $5,000
Penthouse: $43 million